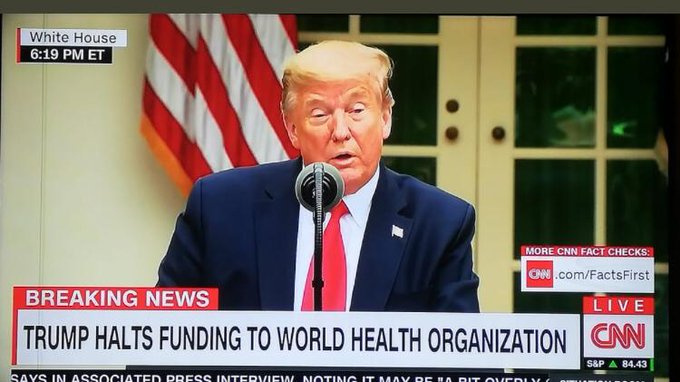 The United States of America President has invoke Executive powers to halt any USA funding to the World Health Organisation (WHO), protesting WHO misled the world on it's management of Covid-19 pandemic. President Trump stunned world leaders and health experts on Tuesday when he announced he was halting funding to the World Health Organization, in the middle of the global coronavirus pandemic.
This means the money that the US Congress had approved for WHO for the rest of the year will no longer be disbursed to WHO. Trump said he can't use USA taxpayers money to fund an institution that has significantly diverted from its mandate and has caused irreparable damage to the Global Health.
Of all the countries, the US is by far the largest donor; in the two-year funding cycle of 2018 to 2019, it gave $893 million to the WHO. Of this total, $237 million were the required membership dues, and $656 million was in the form of donations.
The next member country with the biggest contributions is the UK, which paid $434.8 million in dues and donations during that same time span, followed by Germany and Japan. China contributed close to $86 million in assessed and voluntary contributions in that time period.
The US' donations make up 14.67% of all voluntary contributions given globally. The next biggest donor is the Bill and Melinda Gates Foundation, an American private organization.
Bill Gates and his wife Melinda Gates where quick to post on twitter their criticism of the Trump's decision; "Halting funding for the World Health Organization during a world health crisis is as dangerous as it sounds. Their work is slowing the spread of COVID-19 and if that work is stopped no other organization can replace them. The world needs @WHO now more than ever."
The announcement came as Mr. Trump continued to be angered by criticism of his response to the pandemic and as he sought to gain credit for how he has performed. "Everybody knows what is going on there," he said, blaming the organization for what he described as a "disastrous decision to oppose travel restrictions from China and other nations."
Mr. Trump has repeatedly pointed to his decision to impose travel restrictions on China as proof that he responded early to warnings about the dangers of the coronavirus. As recently as February, the W.H.O. had advised against imposing travel restrictions to places with outbreaks of the coronavirus, saying it was not an effective way combat its spread.