The African community in Guangzhou is on edge after widespread accounts were shared on social media of people being left homeless this week, as China's warnings against imported coronavirus cases, they say, stokes anti-foreigner sentiment.
Africans in the commercial hub have reported being evicted or discriminated against amid coronavirus fears. And a U.S. Embassy security alert on Saturday said that "police ordered bars and restaurants not to serve clients who appear to be of African origin" and local officials have launched mandatory testing and self-quarantine for "anyone with 'African contacts.'"
That's in response to a rise in virus infections in Guangzhou, the U.S. said, adding that "African-Americans have also reported that some businesses and hotels refuse to do business with them."
Earlier this week, images began circulating online of rows of Africans sleeping on the streets of Guangzhou, beside their luggage, having either been evicted from their apartments or been turned away from hotels. Other videos showed police harassing Africans on the street.
– Authorities in China said most of the new COVID-19 cases were being recorded from foreign nations
– Africans have been accused of being among foreigners putting the Asian country at the risk of new coronavirus infection
– Most have been evicted from their houses and are now spending nights on the cold
– On Friday, April 10, China recorded 46 new cases and authorities in Guangzhou directed bars and restaurants to stop serving food to people of African origin
The police and public health bureau in Guangzhou on Tuesday told reporters that officials had responded to rumors that "300,000 black people in Guangzhou were setting off a second epidemic," which "caused panic." Officials said the rumor was untrue.
South Africa repatriated South Africans from Wuhan City in March. A total of 184 South Africans were repatriated back home. Most of these South Africans were students, teachers and other professionals who were working in Wuhan.
Outcry as Kenyans in China especially those in Guangdong, are been faced with racial attacks. Kenyans living in China have been thrown back to the street and now depend on people for food and other basic things for survival. One of the aftermaths of the coronavirus pandemic in China is an incessant racial attack on Africans.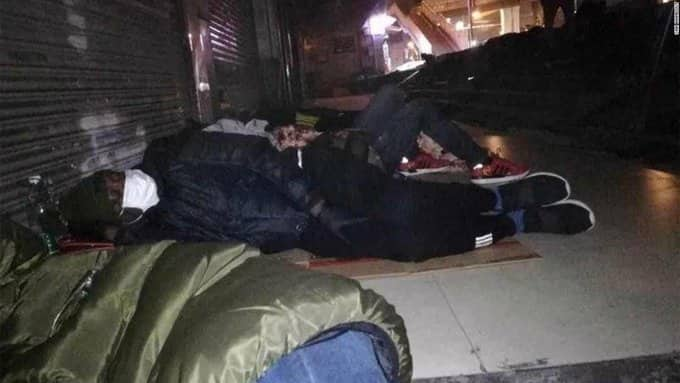 The Nigerian Government has confronted the Chinese Government over the racist attacks on Africans in China!
The Chinese Ambassador in Nigeria has been warned in Abuja